Saudi Arabia's Ambassador to the United States HRH Prince Khaled bin Salman met with young Saudi men and women working in Silicon Valley this week, telling the young employees of major U.S. tech firms "I see our future in you. Our leadership is betting on your success," according to accounts of the meeting.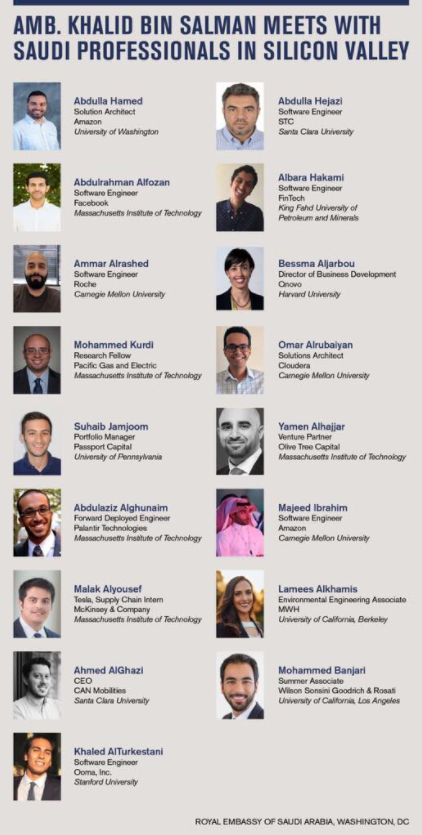 The meeting with Saudi employees of major tech firms including Amazon, Facebook, Palantir, and others, highlights the Kingdom's interest in fostering the professional development of young Saudis who will play a key role in the Kingdom's future economy.
The Ambassador, who is on a visit to the West coast of the United States, also stopped at Nellis Air Force Base in Las Vegas, where he met with Royal Saudi Air Force personnel who are participating in the red and green flag exercises by a number of Typhoon aircraft with their technical and support crews. After that, the former fighter pilot turned Ambassador met with the Saudi pilots who are participating in the exercise and delivered a speech in which he affirmed his pride for the Saudi pilots' performance in this exercise.
According to accounts on Twitter, the Ambassador also met with former Secretary of State Condoleeza Rice.
He has also met with Cisco executives to discuss cooperation with the Kingdom to advance Vision 2030.