A recently released report by Jadwa Investment examines the potential impact of the decision by the Trump administration to not extend all waivers on Iranian oil beyond May 2nd. The ending of waivers would require the cessation of all oil purchases from Iran, which averaged at least 1.5 million barrels per day (mbpd) in Q1 2019.
With surging prices on global indices, the Riyadh-based Jadwa Investment said it expects to see a new production agreement for OPEC+ countries in the coming months.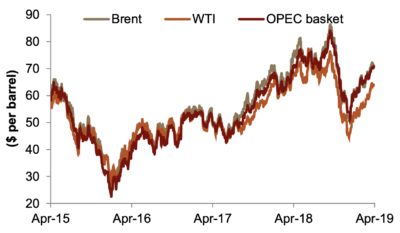 "We expect to see a new agreement allowing for a higher level of allocated oil production for OPEC and partners (OPEC+) when they next meet in either the Joint Ministerial Monitoring Committee (JMMC) in late May or indeed in the OPEC conference in late June," Jadwa said.
"As such, any agreement between OPEC+ that seeks to raise allocated quotas is likely to count on Saudi oil to make up a large portion of the agreed rise in output. As a result, despite Saudi Arabia's crude oil output averaging 10 mbpd in the first quarter of 2019, we have kept our forecast for Saudi oil output at 10.3 mbpd over the course of the year unchanged."
Jadwa noted that surging U.S. production, weak global demand growth, and a potential new OPEC+ agreement with higher allocated levels of oil production would all put downward pressure on prices this year.
[Click here to read the full report from Jadwa Investment] [Arabic]