Inflation rose in Saudi Arabia in January 2018 by 3 percent year-on-year, and 3.9 percent month-on-month "largely as a result of the implementation of VAT and utility and fuel price reform during the month," Riyadh-based Jadwa Investment confirmed in a research note.
The data is based on official Saudi figures released by the government.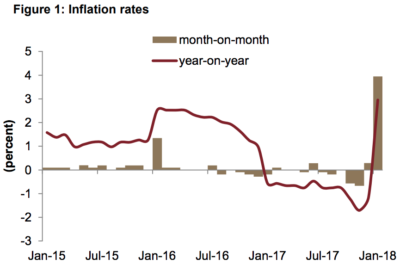 The figures suggested the new tax and more expensive fuel, "part of a government drive to cut a big budget deficit caused by low oil prices, had a large impact on Saudi consumer spending power in some areas last month," Reuters reports. Consumer prices rose 3.9 percent from the previous month in January.
Jadwa notes that other factors may also impact inflation rates going forward in 2018, including higher oil prices, higher international food prices, and monetary tightening by the US Fed.